By Manish Pandey.
This is it. The finale to the greatest World Cup in the history of World Cups. Yes, there is no Brazil, but in Argentina vs Germany, we are presented with a battle which has a lot of history. The final between the two nations is the 3rd final in recent history.
The 1986  final saw Argentina beat Germany 3-2, in a magic match where Maradona became the legend Maradona. In 1990, when the Germans won 1-0 in what was considered at the time a less than exciting performance from the two teams. Will this match be like the 1986 match, seeing Messi become the legend Messi, like Maradona. Or, will we see a clinical, efficient German win like in 1990?
This is a match which many regard as 'team vs individual'. The well oiled, cohesive German unit vs the magic of Lionel Messi. Messi has not reached his best in this tournament, but, he has one final chance, one final stage, the biggest stage of them all, to create his very own Maradona moment.
The last time these two teams met in a World Cup, Germany were easy 4-0 winners, 4 years ago in South Africa. They managed to keep Lionel Messi quiet and were hugely impressive that day. Yet, things may be different this time around.
Messi is now much more patient, more intelligent, and has more creativity in the No10 role, than 4 years ago.
The man with the unenviable task of stopping Messi will be Bastian Schweinsteiger, who has played the deep-lying midfield role since the 1-0 quarter-final victory over France. Schweinsteiger is an excellent passer, but can struggle defensively against tricky, top-class opponents. This explains why Joachim Loew was so adamant to play Philipp Lahm there, as he lacks that natural holding midfielder. The rest of the composition of the German midfield is made up of Toni Kroos and Sami Khedira. They will most likely be unable to help Schweinsteiger as they will be tasked with pressing and rushing the Argentine midfield.
Germany have changed the way they play, since the 1-0 loss in 2010 to Spain. Germany sat much deeper, allowed Spain to have the ball and counter attacked whenever possible. However, things changed when Spain went 1-0 through Carlos Puyol, and Germany were then required to chase the ball and chase the game. Spain opted to keep possession without fuss. This is when the Germans were trying to press Spain, yet they expended so much energy in doing so that they were "too tired to do anything with the ball" as Miroslav Klose stated.
Germany have indeed shifted to a more possession based game than before, but the second shift is another thing they took from Spain's performance that day- the pressing. Pep Guardiola's famed 7 second rule is to win the ball back within 7 seconds of losing it. Spain did something similar in 2010. Though it is no surprise that Xavi was the leading passer on that day, he also covered the most distance of any player. He led the Spain press, urging his players to win the ball. He showed that the old saying of running more without the ball was nonsense.
Germany have certainly included that aspect in their game this World Cup, pressing higher up the pitch. Kroos and Khedira did this often vs Brazil, to Fernandinho and Gustavo. The 4th goal showed this perfectly; Kroos robbed the ball from Fernandinho, played a one-two with Khedira and converted into an empty net. Germany are now playing passes in the opposition area, as opposed to their own area.
There has been much talk about Manuel Neuer as the 'sweeper keeper', with many calling him the 'crazy keeper'. Neuer is essential to this new German style of play. With the emphasis now on pressing higher up the pitch, there is more space left in behind the German defence. That requires Neuer to charge out and cover the space, something he has done very effectively so far. Pressing is not about a few individuals covering space/angles at certain times, it is about a whole team unit doing it in perfect sync.
Argentina will be trying their best not to be overrun in midfield, and not to get broken down by Germany's pressing. This will be tough for Argentina considering they have had 1 day's less rest.
Enzo Perez is likely to continue for Argentina in place of Angel Di Maria. Though he is not a natural wing replacement, he will narrow in and make the midfield into a 3 man midfield, which should help Argentina cope better with Germany's swarm.
The important man for Argentina will be Javier Mascherano. Fernandinho was often caught out for Brazil by dwelling on the ball very and having slow distribution. Argentina's midfielders, especially Mascherano need to ensure they are not caught out. Mascherano will be helped by his experience at Barcelona, a passing mecca where swift distribution is a necessity.
Argentina are the polar opposite to Germany, which can be reflected in the difference in the 2 goalkeepers. Whilst Neuer is happy to charge out, Romero of Argentina prefers to stay in his area, protected by his deep lying defenders and midfielders. This tactic of cautious deep defending is probably the best solution and method for Argentina to adopt.
The other major threat to Argentina will be Thomas Muller. He is likely to start out on Argentina's left, facing Marcos Rojo. Rojo must play the best game of his career if he is to stop Muller. Muller has scored 10 World Cup goals, has pace, power and intelligence in abundance.
Going forward, Argentina are wholly reliant on Messi, more so now that Di Maria will most likely be ruled out through injury. Messi plays a much more relaxed role for Argentina than at Barcelona, more of an old-fashioned, languid Argentine No. 10 role. He's not expected to press energetically, and remains in a position to always receive the ball.
Messi will drift over to the right, as he did regularly during the tedious draw against the Netherlands. This will be a concern for Germany, because their weak link is Benedikt Howedes, who hasn't looked comfortable at left back. Howedes though, may cope, as being a right footer, he is equipped to stop Messi from drifting inside.
Germany must work as a unit to stop Messi. Schweinsteiger has to be incredibly disciplined, and have the best game of his career, to stop the best player of the modern era. Kroos and Khedira have to press the Argentine midfield to stop them playing balls into Messi. Germany must then somehow find a way to suffocate Messi, and not allow him space to dribble.
This will be a fascinating final. Of course, there is a lot of emphasis on tactics. Yet above everything, in this big final, will be the mentality of each player. Can they cope with the pressure? Can they cope with the eyes of 3 billion on them?
It is time for Germany to stand up, and win a World Cup after 24 years. There are no more excuses. No more 'potential from players'. Loew himself has said it, "we have players playing at their peak." This is a team which is far superior to Argentina.
Argentina are the underdogs, but they have Messi. If Messi puts on a show, then the World Cup will belong to Argentina. It is a big 'IF'. He has looked exhausted in the knock outs. Many question whether he has enough left in the tank to perform in the final, against this rapid-fire German machine.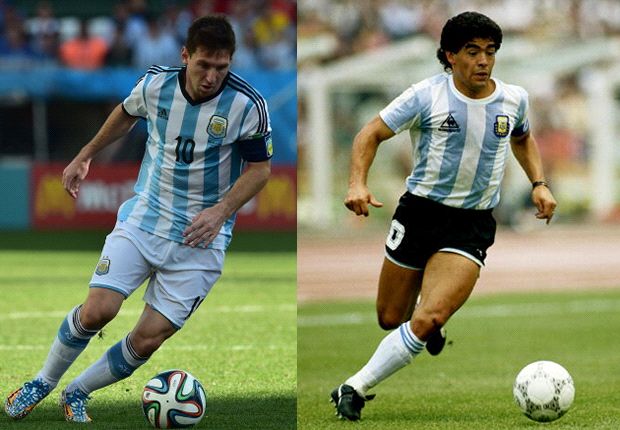 One feels, it is not tactics which will solely win the game, but cool and calm minds as well. Germany are the favourites, but it is time for Messi to stand up and deliver.
Probable XIs:
Argentina (4-4-1-1): Romero; Zabaleta, F Fernández, Garay, Rojo; E Perez, Mascherano, Biglia, Lavezzi; Messi; Higuaín.
Germany (4-3-3): Neuer; Lahm, Hummels, Boateng, Höwedes; Khedira, Schweinsteiger, Kroos; Özil, Müller, Klose.